Moonshot goals are achieved when your will to succeed prevails.
Mar 21, 2023 8:00 AM EDT
Article originally published by Men's Journal
Kaulig Racing team owner Matt Kaulig isn't a NASCAR driver, but at Daytona 500 he's doing hot laps of his own. Amid the chaos of race weekend, he's juggling team strategy, sponsor relations, driver coaching, and media interviews—plus the occasional hardcore NASCAR fan who recognizes him in the crowd.
He's lucky if he has a spare second to get a meal down. Yet he's driven to carve time out of this frenetic schedule to give back at Speediatrics, an event put on for The Boys and Girls Club in partnership with the NASCAR Foundation, a charity that provides medical and healthcare services to children, coordinates experiences for terminally ill kids, and hosts festivals in race markets.
As the event's underwriter, Kaulig doesn't need to attend, but he recognizes the importance of being present and rolling up his sleeves to imbue the importance of a healthy lifestyle. Ecstatic kids line up for signatures on NASCAR T-shirts and receive new bikes and helmets, built and donated by members of Kaulig Companies.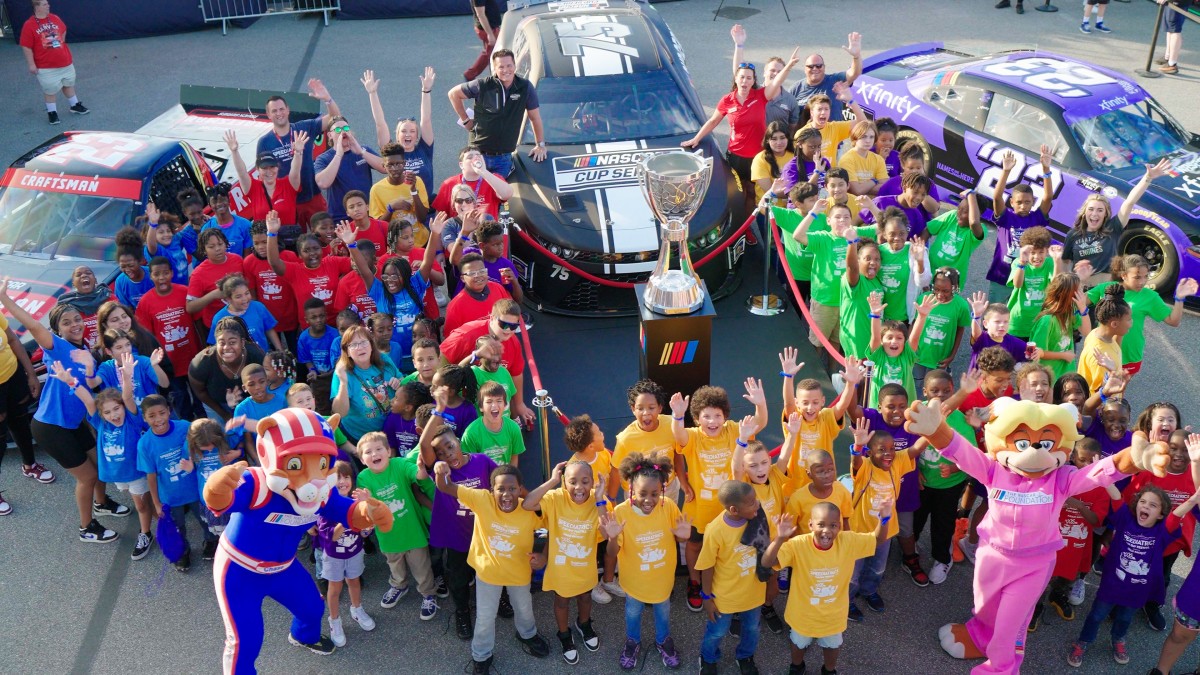 Kaulig's drive to maximize every aspect of life is innate, stemming from his youth. He was a standout baseball and football player in high school. Even during these early days, he knew being a leader required precise decision-making and dogged follow-through. It wasn't enough to rely on natural talent.
"I was taught from a young age that if you wanna be the captain, you lead by example," Kaulig says.
He fostered discipline to develop his abilities, and it carried him through to the University of Akron, where he became a starting quarterback for the Zips football team.
After graduating, Kaulig got into sales, earning commission on a product called LeafFilter, a surgical-grade stainless-steel mesh screen that prevents gutters from clogging. But it wasn't enough to be a cog in the machine. He wanted to be at the fulcrum of something bigger.
"You hear the saying, 'Keep it simple,' " Kaulig says. "I wanted to create a company that does a couple billion dollars in sales by selling one product."
So he jumped at the opportunity to grow Leaf Home™ from an at-home startup into one of the biggest direct-to-consumer home product companies in the U.S. and Canada. It's part of Kaulig Companies, his consolidated group of businesses and charitable organizations.
Inspiring a Drive to Succeed in Others
Kaulig lives by the mantra "today not tomorrow," and that ethos is baked into how he leads and manages teams. Kaulig has a talent for finding people with a similar drive and identifying how to best motivate them.
"As Kaulig Companies grew, I wanted to increase our philanthropy efforts," Kaulig says. I'm proud of our success but even more proud of our drive to give back. Philanthropy is our culture."
Kaulig instills that spirit among his ~200 employees. Each year, he gives $1,000 to each so they can donate to an organization they're passionate about. This significant annual investment sets an example that everyone, from top to bottom, should feel good about giving.
All of Kaulig's enterprises hinge on the principle that the more they make, the more they give back. He launched Kaulig Giving to enhance these efforts. The team creates partnerships with like-minded non-profits (250 and counting) in northeast Ohio and beyond that benefits children in some capacity.
For example, Kaulig teamed up with the LeBron James Family Foundation to develop a high-tech media lab for students that mirrors a television studio with the ability to broadcast live. In the I PROMISE Program—named after the promise students make to themselves and others to be the best versions of themselves—kids gain new skills by interviewing community change-makers. In a segment now broadcast weekly on a local NBC affiliate, kids learn how to shoot and produce. It's not just about the technical skills they're gaining in the present; it's the teamwork, camaraderie, and work ethic that will endure in the future—long after their tenure in the lab is over.
Shifting Into High Gear
Back to NASCAR. Wondering how Kaulig made the leap? Rejecting complacency.
LeafFilter first appeared as a Nascar sponsor in 2014, but Kaulig wanted to do something bigger, better, and bolder.
"There's a saying in the race shop I've always lived by, 'Either you continue to grow or you begin to die,' " he says.
Kaulig knew he could be at the helm of something great in motorsports. He spent time in the garage, met the other owners, and started to understand how things worked.
"Being entrepreneurial, I looked around and was like, 'Well, I think I can do this myself,' " he recalls.
Enter Kaulig Racing. His NASCAR team runs three full-time cars in Xfinity and two full-time cars in Cup Series, gobbling up wins, top-five finishes, and pole positions. As Kaulig grows in racing, his philanthropic involvement will too. He'll underwrite 10 race market Speediatrics Camps in 2023.
We saw him do the very same thing last year when he invested a 25 percent stake in the Cleveland Guardians. It was the culmination of a relationship that started four years earlier when he started working as the public face of the MLB organization's charitable efforts and raised $750,000 in four years for Guardians Charities, which supports the Cleveland Metropolitan School District, the City of Cleveland Recreation Department youth baseball and softball programs, Boys & Girls Clubs of Cleveland, and more.
It's the Kaulig way.
Now, every student in the district has Wi-Fi in their home—and Kaulig's efforts have expanded to support the Guardians RBI program, which gives at-risk youth a chance to get out on the baseball field. Kaulig's internal media production team also took the effort one step further, producing an Emmy-submitted documentary titled The Kids from Cleveland and a series of sizzle reels to help students with college recruitment. Four boys from the team are now NCAA athletes.
This non-stop commitment to doing more reveals Kaulig's own internal passion to continue reinventing what a massive corporation can accomplish with the right vision and drive. Most people shift into cruise control at this stage of their lives and careers, but Kaulig is still fired up to continue pushing the envelope—for his businesses, his charities, his NASCAR race team, and himself.
His natural drive to succeed keeps him motivated at 50, despite having the financial means to retire comfortably at any time. Although retirement seems at odds with his supercharged demeanor.
"I don't feel old even a little bit," he says. "If you asked me five years ago if we'd have a NASCAR team, or two years ago that we'd be driving in the Daytona 500, I'd say everything's on the table."
So, what's next for Kaulig?
"I don't know—that's the most exciting," he confesses. "I like challenges and I like the proposition that you just don't know who you're gonna meet, what you're gonna run into, or what's gonna happen. That's pretty motivating to me."